"A face like this cannot go wrong," Salman Khan endorses Punjabi actor Gippy Grewal at the trailer launch of the latter's new film, Maujaan Hi Maujaan.
Earlier, Aamir Khan had unveiled the trailer of Gippy's blockbuster film, Carry on Jatta 3.
This time, Salman does the honours.
"Bollywood industry is supporting Punjabi cinema," Gippy says. "I always believe that if any industry has to grow, efforts have to be made. You have to go to places where people don't know you and promote the film."
"Last time we came here, Aamir Khan launched our trailer. A lot of people watched it because of him. This time, our trailer was launched by Salman Khan, so now because of him a lot of people will watch our trailer. When the content is right, it has to be promoted through the right person, then the reach of that film gets better."
Afsar Dayatar/Rediff.com brings us moments from the trailer launch.
"So many actors came from Punjab and made the Hindi film industry. Like, I worked with Veeruji, that's Ajay (Devgn)'s father, Sham Kaushal (Vicky Kaushal's father) …so the best of Punjab was working here," Salman says, looking back at the action directors he worked with at the start of his career.
Watch the grand welcome Salman gets at the trailer launch.
Maujaan Hi Maujaan has been directed by Smeep Kang and will release in theatres on October 20.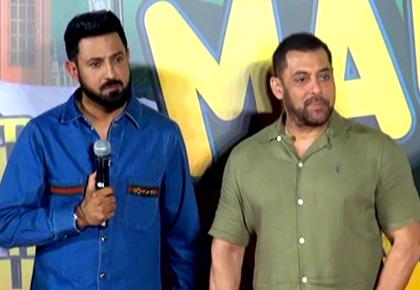 Source: Read Full Article